[The following information is for the administrator. More detailed information on how to create the initial configuration, the technical data of the client and the server components can be found elsewhere.]
Before users can start using the client, the administrator needs to configure some settings via NCP Secure Enterprise Management.
To use the iOS clients, the required quantity of client access licenses must be imported into NCP Secure Enterprise Management.
An initial configuration must then be created via NCP Secure Enterprise Management and transferred to the device. The configuration file *.ncpsemconfig) can be transferred via the following methods:
1. Via download from a web server through the Safari browser
2. As an e-mail attachment
3. Via iTunes (with Mac/PC)
Downloading the Initial Configuration
The initial configuration should be created for all users with a pre-shared key rather than a certificate, as this allows the configuration to be sent via all transfer methods.
When the initial configuration file is distributed via a link or e-mail the initial configuration is imported automatically, although only configurations without a certificate can be imported.
Warning:
If a certificate is already used for the initial configuration, it can only be imported via iTunes. The certificate and the initial configuration must be imported at the same time.
Download the Personanl Configuration
To download the personal configuration, the user must be notified of the authentication data (user ID and authentication code) and, if applicable, the PIN for the personal certificate (e.g. by e-mail).
NCP Secure Enterprise Management assigns personal profiles according to the authentication data. Each time the user connects to NCP Secure Enterprise Management the identify of the user is verified.
This can only take place if every client which has its own configuration has an "ID for personal configuration". This ID is shown in the NCP Secure Enterprise Management info field (figure below) as "User ID". The user receives the configuration profile and certificate (if required) according to this ID.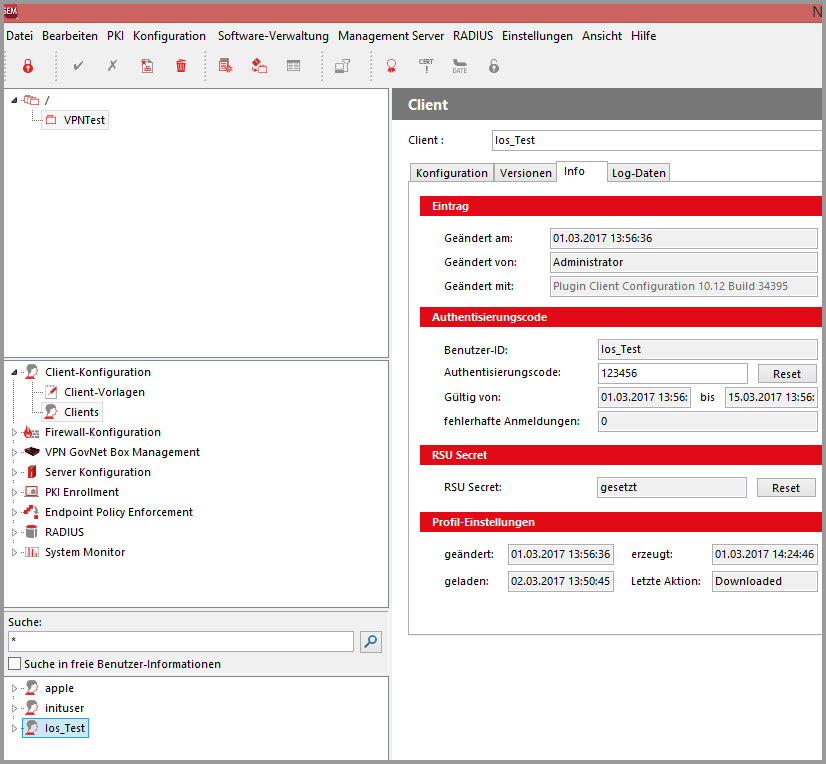 The User ID and authentication code found in the SEM in the client's info field are used to download the personal configuration.
There are three options for determining the user ID:
– VPN Username
– Device name (displayed in the settings on the start page of the device under General / Info / Name) (The name shown here can be changed by the user at any time.)
– The unique device ID (UDID, Unique Device ID in the client info center) is automatically generated in the background when the app is installed. It can be found in the Client Info Center of the NCP App.
One of these options must be set in NCP Secure Enterprise Management as the "ID for personal configuration" in the client profile.
© 2017 NCP engineering GmbH